Wed., Feb. 12, 2014, 1:22 p.m.
Assessor McDowell Seeks Re-election
Assessor Mike McDowell of Kootenai County sent this announcement to Huckleberries today: I am announcing that I'm seeking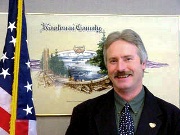 re-election to the Office of Kootenai County Assessor. I have the education, training and experience of more than 36 years in the Assessor's Office. I have served the property owners of Kootenai County as your Senior Deputy Assessor since 1983 and as your Assessor since 2003. I know and understand the many challenges of the office. I place a high value on quality customer service, professional development for staff, and cost effective operations. More here. (Photo: Kootenai County Web site)
Question: I see no reason to switch horses in the assessor's office, do you?
---
---