Wed., Feb. 12, 2014, 10:15 a.m.
Hayden Doc Opts For Flat-Fee System
He doesn't ride a horse or carry a leather satchel with a stethoscope and forceps. But patients describe Dr. Rich Samuel as a throwback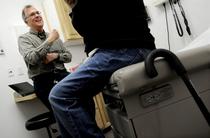 to a simpler time in medicine. He gets them in quickly for appointments, offers leisurely visits and even answers their calls at night and on weekends. "We're trying to go back to the old-time, country doctor approach," said Samuel, a board-certified family physician in Hayden. He also offers a far less complicated payment system. Patients can see Samuel all they need for a fixed monthly fee. "We're trying to change the game, so to speak, and you know, the game is well-entrenched," the soft-spoken doctor said/Scott Maben, SR. More here. (Kathy Plonka's SR photo: Dr. Rich Samuel encourages a patient following an exam at his Hayden office Monday. His patients pay a flat monthly fee for his services)
Question: Are you interested in Doc Samuel's approach to health care?
---
---