Wed., Feb. 12, 2014, 9 a.m.
Henderson, Chambers Admit Snafu
When Idaho's 2014 legislative session began in January, Rep. Frank Henderson, R-Post Falls, was unable to fulfill his duties due to an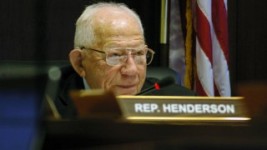 injury. In his place, a fill-in representative was seated and fulfilled Henderson's duties for the first few weeks of the session. Now, however, IdahoReporter.com has learned that the person chosen as Henderson's substitute was not qualified to be sworn in to Henderson's seat. John Chambers, who substituted for Henderson during the first few weeks of the session, does not live in Henderson's legislative district. "It was a mistake, no question about it," Henderson told Idaho Reporter.com. Chambers agrees with Henderson, saying his appointment while living outside the district "was a mistake, a horrible mistake"/Austin Hill, Idaho Reporter. More here. (Idaho Reporter photo)
Question: Some of you asked yesterday what this snafu means for the votes that John Chambers made while filling in for Rep. Henderson. Does anyone have an answer for that question?
---
---