Wed., Feb. 12, 2014, 8:48 a.m.
NIC Trustees Seek To Define Tenure
The tenure process at North Idaho College underwent intense scrutiny Tuesday during a special meeting of the college's board of trustees.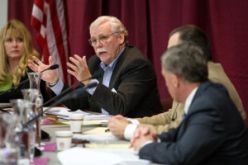 During the nearly two-hour workshop, the trustees heard from speakers they invited, including members of the community, the faculty and the college's administration. "I know this workshop that we planned has created a great deal of concern amongst the faculty, and that's quite understandable, quite frankly," said board chair Ken Howard, before the meeting's conclusion. "This was an opportunity for this institution to tell the world what tenure is at NIC, not what they think it is someplace else or what they were told it was or what they imagined it might be, but what it is here at NIC," Howard said/Maureen Dolan, Coeur d'Alene Press. More here. (Gabe Green's Coeur d'Alene Press photo: Chairman Ken Howard introduces a speaker during a open forum workshop at North Idaho College)
DFO: Did Trustee Todd Banducci behave himself?
Question: How would you define "tenure"?
---
---