Wed., Feb. 12, 2014, 5:15 p.m.
Reward Offered For 'Kate' Vandal
Crime Stoppers of the Inland Northwest is offering a cash reward for information on the theft of a bronze statue that was reported to Coeur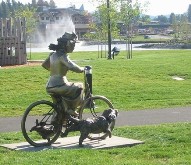 d'Alene Police on Jan. 18. Sometime between Friday night on Jan. 17 and early Saturday morning Jan. 18, parts of a statue depicting a 1920s-era woman on a bicycle being followed by two dogs were stolen. The statue entitled "Kate" appeared to have been removed with the use of a vehicle by possibly using a rope or a chain. The matching bronze bicycle the statue was attached to, and a small bronze statue of a dog were not taken but it appeared to officers an attempt was made to steal the entire statue. Coeur d'Alene Parks Director Steve Anthony estimated the artwork is worth about $25,000, though if recycled the stolen pieces would be worth much less. More here.
DFO: The scum who vandalized and stole this fine piece of public art is lucky that I won't be the judge who handles his case. That was my favorite piece of public art in the city. I'd throw the book at this piece of human vermin. Let's catch him.
---
---