Thu., Feb. 13, 2014, 2:56 p.m.
'Add The Word' Protestors Return
At least 65 demonstrators seeking anti-discrimination protections for gays and lesbians law ringed the third-floor rotunda of Idaho's Capitol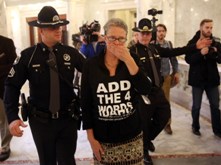 10 days after dozens of people were arrested at a previous protest. Thursday's demonstration didn't include blocking entrances to lawmakers' chambers, the incident that precipitated the mass arrests of Feb. 3. The group attempted to file into both the House and Senate chambers, but it was rebuffed by Idaho State Police troopers and Capitol security, who told the protesters they needed to turn their shirts — which read "Add The Four Words," in white letters on a black background —inside out in order to enter. Rules for both chambers forbid political displays by spectators who enter the House or Senate galleries/John Miller & Katie Terhune, AP/Idaho Statesman. More here. (Joe Jaszewski's Statesman file photo: Former Idaho state Sen. Nicole LeFavour is arrested after blocking the entrance of the Senate chambers Feb. 3)
Question: Will the protestors be impossible for the Legislature to ignore when this story has gone national?
---
---