Thu., Feb. 13, 2014, 1:03 p.m.
'Drummers' Actors Bring Energy
With his shock of dark hair carefully coiffed and new red Vans on his feet, Brayden Tucker bounced up to a table at Wandermere Village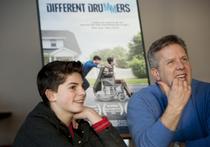 Centre Cinemas exuding restless energy. That energy is what made him perfect for the role of Lyle Hatcher in the movie "Different Drummers," which opened Friday at Wandermere. Hatcher, who co-wrote and co-directed the film with Don Caron, said from Brayden's first audition, "I knew I wanted him to play me." "Different Drummers" takes place in Spokane in the mid-1960s and tells the story of the friendship that sprung up between Hatcher and David Dahlke. Hatcher was a hyperactive kid whose boundless energy landed him in all kinds of trouble, while Dahlke suffered from muscular dystrophy and used a wheelchair/Cindy Hval, SR. More here. (Tyler Tjomsland's SR photo: Brayden Tucker, left, and co-director Lyle Hatcher reminisce about the making of "Different Drummers" on Friday at Wandermere Village Centre Cinemas in Spokane)
Question: Which locally produced movie is your favorite?
---
---