Fri., Feb. 14, 2014, 4:59 p.m.
Huckleberries Hears …
... That Rep. Frank Henderson, pictured, is not having much luck recruiting someone to run for the seat he holds. Word on the street is no one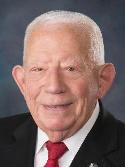 wants to be perceived as Henderson's lap dog and have to be beholding to him and his legacy if they're elected to the seat. Even though John Chambers was a very good choice as a legislative candidate, the fall out of the district boundary disqualification and illegal substitution in the first two weeks of the session appears to be causing people to question Frank's judgement. At least one potential candidate has said thanks but no thanks to Frank's offer of support and endorsement.
---
---