Fri., Feb. 14, 2014, 10:46 a.m.
Panel OKs Curb Fed Agents' Powers
A Senate panel voted Wednesday to make it a crime for federal agents to operate in the state without first getting approval from the local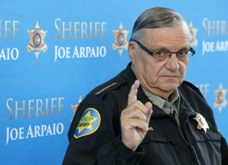 sheriff. Arizona Public Radio's Howard Fischer reports. ... Former Graham County Sheriff Richard Mack told members of the Public Safety Committee that provides a check and balance against what he called atrocities committed by federal agents, like the 1992 confrontation at Ruby Ridge, Idaho, between federal agents and Randy Weaver that left Weaver's wife and son dead, and a 51-day standoff the following year at Waco ending with an assault by federal agents on the Branch Davidian compound and a fire that killed 76/Howard Fischer, KNAU Public Radio. More here. (AP file photo of Arizona Sheriff Joe Arpaio)
Question: Do you think this legislation would pass constitutional muster?
---
---