Fri., Feb. 14, 2014, 4:57 p.m.
Topless Bro-istas Invade Spokane
A brand new coffee stand has opened in north Spokane that's bound to turn a few heads and draw some controversy along with a Hot Cup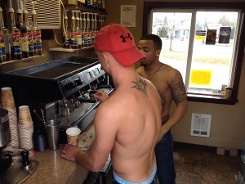 of Joe. Hot Cup of Joe opened at 1602 N. Ash Friday morning. Their customers insist they're coming for the coffee, but eventually the break down and admit why they're really stopping by. "You make a good cup of coffee, they're going to come back," Chris Mullins said. Mullins' coffee stand prides itself on coffee, even though its still their first day. But you'll soon find Mullins has a lot of pride. He's putting it all out there, and poured his life into the stand, to serve the ladies a hot cup of Joe … shirtless/Ian Cull, KXLY. More here. (Photo: KXLY)
Question: Is this the kind of coffee stand that would interest you?
---
---