Mon., Feb. 17, 2014, 8:40 a.m.
Otter, Not Winmill, Lacks Idaho Values
Idaho Gov. C.L. (Butch) Otter has lost all touch with reality. His slandering of U.S. District Court Judge Lynn Winmill at a Capital for a Day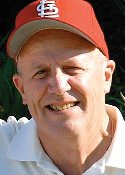 in Craigmont by accusing this distinguished jurist of not being in touch with Idaho values goes beyond the pale. Sadly, it demonstrates the great degree to which the governor himself just doesn't get what is going on in this world. Otter is the one who doesn't get Idaho values. Idaho values education. Otter clearly does not. His eight years have seen educational support eviscerated by him and the Legislature. Idaho now ranks 50th out of 50 states and the District of Columbia in terms of per pupil spending on education. The Albertson Foundation is running ads pleading with him and the Legislature not to fail Idaho/Chris Carlson, Carlson Chronicles. More here.
Question: Do you agree with Chris Carlson's premise that Gov. Butch Otter's Idaho values deserve closer scrutiny than Judge Winmill's?
---
---