Mon., Feb. 17, 2014, 9:03 a.m.
Raul Mum On IEN Funding Mess
Last week, we asked the congressional delegation to weigh in on the Idaho Education Network funding mess — in light of the fact that the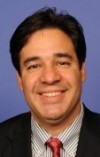 Federal Communications Commission briefed the delegation on the matter. We heard back from Sens. Mike Crapo and Jim Risch and Rep. Mike Simpson for a story we published Friday. Rep. Raul Labrador? No dice. Labrador's office didn't respond to five email and voicemail requests for comment. Labrador isn't usually shy about media attention. But this isn't the first time Labrador has stonewalled us on an education issue/Kevin Richert, The EDge. More here.
Question: Why do you think the cat has Congressman Labrador's tongue?
---
---