Tue., Feb. 18, 2014, 1:55 p.m.
Deputies In Fatal Shooting Identified
Six Spokane County sheriff's deputies fired the shots last week that killed Jed Zillmer, a 23-year-old Afghanistan war veteran who police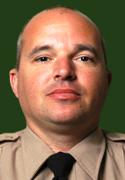 have said threatened to kill civilians and himself after a high-speed chase. The Sheriff's Office released the names of the deputies involved per agency protocol Tuesday morning. Among the shooters was Deputy Brian Hirzel (pictured), of Hayden, a five-year veteran of the agency who shot and killed Wayne Scott Creach, 74, in 2010. Other deputies involved were Brett Hubbell, Jeff Thurman, Dale Moyer, Ryan Walter and Randy Watts. Watts has spent the least amount of time with the Sheriff's Office, deputized 10 months ago, according to a news release. The other deputies have at least five years of experience with the force and most have earned commendations for their work/SR. More here.
Thoughts?
---
---