Thu., Feb. 20, 2014, 8:32 a.m.
Coffee Hut: Six Pack & Cup Of Joe
First came the nearly nude jiggling barista gals at XXXtreme Espresso. Now come the bare-chested beefcake boys, flaunting their tanned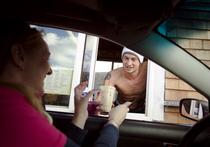 man muscles at Hot Cup of Joe. Look, I don't want to go Old Testament on you. But if this naughty coffee trend continues, I fear Spokane could turn into another … Sodom and Cremora. To get a look at this latest development on the caffeine scene, I motored over to the northeast corner of Spofford and Ash on Wednesday and found: "Tailor's Bean Shack Espresso." Huh? I soon discovered that this sign was from the former enterprise, which perhaps had to sell because the baristas wore too many garments. That's definitely not the problem now/Doug Clark, SR. More here. (Colin Mulvany's SR photo: Chris Mullins, owner of Hot Cup of Joe, hands customer Kayte Gier her espresso drink Wednesday)
Question: I would be embarrassed going to a coffee stand that offered cheesecake or beef cake on the side. How about you?
---
---