Thu., Feb. 20, 2014, 8:25 a.m.
Prison Talks For Bergdahl Discussed
Washington has held indirect talks with the Taliban over the possible transfer of five senior Taliban prisoners from Guantanamo Bay in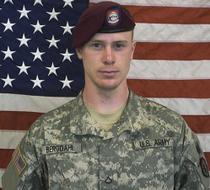 exchange for a U.S. soldier captured nearly five years ago, a senior Taliban official told the Associated Press. Sgt. Bowe Bergdahl, 27, of Hailey, Idaho, was last seen in a video released in December, footage seen as "proof of life" demanded by the United States. Bergdahl is believed to be held in the border regions between Afghanistan and Pakistan. He is the only U.S. soldier to be captured in America's longest war, which began with the U.S.-led ouster of the Taliban regime in Afghanistan for sheltering al-Qaida in 2001 in the wake of the Sept. 11 terror attacks/Associated Press. (AP photo)
Question: Do you think this deal is going to get done?
---
---