Thu., Feb. 20, 2014, 9:01 a.m.
Spence: Bills That Pass The Frog Test
The slew of "litmus test" bills we've seen this session reminds me of a famous fairy tale, the one about the princess who kisses a frog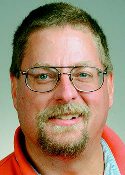 that turns into a handsome prince. Apparently in some versions of the story, the prince only appears after the frog is thrown against a wall in disgust. Either way, the slimy creature represents something gross and undesirable, an unwanted amphibian that magically transforms into the girl's heartfelt desire. Like the frog, these bills seem faintly ridiculous at first. They do little but demonstrate the Legislature's commitment to guns, motherhood and apple pie. They rarely have much affect on Idaho's quality of life - yet they're often presented as major accomplishments, the type of important work lawmakers are sent here to perform. They raise an interesting question: Are voters getting what they want, or what they deserve?/William L. Spence, Lewiston Tribune. More here.
Question: Which bills do you consider the biggest waste of time during the 2014 Legislature?
---
---