Fri., Feb. 21, 2014, 9:53 a.m.
1 Year Ago: Diamond Cup Defections
The organizers of the Diamond Cup haven't had smooth sailing as they fought through one obstacle after another. That was never more evident than the news that broke on Huckleberries Online a year ago of directors abandoning the Diamond Cup board right and left:
"You may know that hydroplane races are scheduled on Lake Coeur d'Alene for Labor Day weekend this year.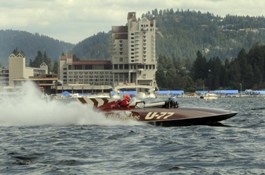 But did you know that directors of the Diamond Cup Regatta are dropping like flies? A look at the Secretary of State's business directory reveal that four directors abruptly resigned their posts in the first week of this month — Art Flagan, Jim Addis, Craig Brosenne and David Bobbitt. Additionally, there's a correction on the Secretary of State's site that shows Kiki Miller had been inadvertently listed as a director." More here.
DFO: You have to give Diamond Cup organizers props for pushing ahead and staging the 2013 event despite the obstacles, right?
---
---