Fri., Feb. 21, 2014, 9:05 a.m.
Buell Announces Re-election Bid
Doing more with less will continue to be the biggest challenge facing the Benewah County Commissioners, according to Commissioner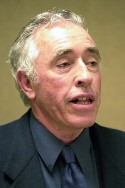 Jack Buell. Mr. Buell made the comment during an interview in which he announced he will seek re-election as Benewah County Commissioner. "The biggest challenge we have is the lack of tax base while the cost of providing county services, especially roads, continues to climb," Mr. Buell said. He cited the move by the Idaho legislature to exempt all property owned by the Coeur d'Alene Tribe from taxation. That combined with land purchases by the federal government for the tribe have reduced the tax base. ... Mr. Buell has served as county commissioner since 1974/Dan Hammes, St. Maries Gazette Record. More here.
Question: Are you a Jack Buell fan?
---
---