Fri., Feb. 21, 2014, 2:34 p.m.
Coeur d'Alene Salamander Loses Out
Ilah Hickman, 13, told the Senate State Affairs Committee this morning that since the print hearing on her bill to make the Idaho giant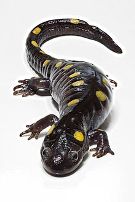 salamander the designated state amphibian, she's done additional research at the suggestion of Senate Majority Leader Bart Davis. She catalogued for the committee all 15 amphibians that are native to Idaho, and the reasons why they wouldn't make as suitable symbols for the state: Five already are symbols for other states, others are common frogs or toad that live in many places, including other countries. "That left the Coeur d'Alene salamander and the Idaho giant salamander," Ilah said. "The Coeur d'Alene salamander lives equally in Idaho and Montana. … And even though I think Coeur d'Alene is a beautiful city, we're not the State of Coeur d'Alene/Betsy Russell, Eye on Boise. More here. (Wikipedia photo: spotted salamander)
Question: Have you ever heard of the Coeur d'Alene salamander?
---
---