Fri., Feb. 21, 2014, 8:37 a.m.
Hammes: So What If He's Gay
Why is it the people who claim to be so accepting cannot accept some things? Without a bunch of fuss, muss, hand-wringing and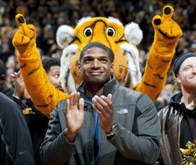 calamity, that is. That thought occurred with the announcement of the gay football player. For those who missed it, a defensive end at the University of Missouri announced last week that he is gay. And that's a problem. He announced. Pronounced. Proclaimed. That he's gay. Most folks, those of us who do not count ourselves among the elites, simply rolled our eyes and wished he would just shut up. But the real fancy people, celebrities, people who talk on TV and the First Lady among them, made quite a fuss over this. They were just giddy that a football player would be gay. For some reason the sex life of a complete stranger became a very, very, very big deal to those folks. Then it got worse/Dan Hammes, St. Maries Gazette Record. More here. (AP file photo: gay football player Michael Sam at Missouri-Tennessee basketball game last Saturday)
Thoughts?
---
---