FRIDAY, FEB. 21, 2014, 8:41 A.M.
Jeers — To Arrogant Sen. McKenzie
In his weekly Cheers & Jeers column, Marty Trillhaase of the Lewiston Tribune gives jeers to guns-on-campus sponsor Sen. Curt McKenzie, R-Nampa (pictured):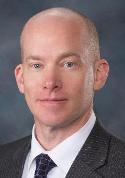 While chairing the Senate State Affairs Committee last week, McKenzie gave the NRA 40 minutes to speak in favor of his bill. But when it was time for Boise Police Chief Mike Masterson to give the rebuttal, McKenzie shut down the hearing. Tuesday, as the Senate was debating McKenzie's bill, Democratic Leader Michelle Stennett of Ketchum asked the sponsor to yield for a question. In a rare breach of decorum, McKenzie declined. Stennett is no partisan bomb thrower and her question was a reasonable one: How exactly do you define a concealed weapon? OK, Sen. McKenzie. Answer this one, will you: How do you define arrogance? Full Cheers & Jeers column here.
Thoughts?
---
---