Fri., Feb. 21, 2014, 8:27 a.m.
Labrador Shares Views On Marriage
Perceived conflicts between gay rights and religious freedoms, already a major controversy in the 2014 Idaho legislative session, could be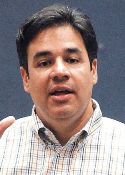 an issue in this year's congressional race as well. Idaho Congressman Raul Labrador cited the conflicts as the basis for his "Marriage and Religious Freedom Act," which was introduced in September. In a meeting with reporters Tuesday in his Meridian office, Labrador said he started working on the bill after the U.S. Supreme Court overturned a portion of the Defense of Marriage Act, saying Congress can't define marriage exclusively as a union between one man and one woman. ... Labrador's bill prohibits the federal government from taking "adverse action" against individuals based on their religious belief that marriage is between a man and a woman/William L. Spence, Lewiston Tribune. More here.
Approve/disapprove?
---
---