Mon., Feb. 24, 2014, 1:52 p.m.
City Mulls Rules For Mobile Vendors
They seem to be appearing all around Coeur d'Alene: Mobile businesses selling anything from tacos to sunglasses and even knives.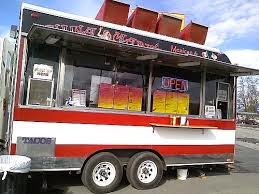 While the city regulates these types of businesses when they are on public property, there are currently no regulations when the operation is on private commercial property like the parking lots of adjacent established businesses, City Clerk Renata McLeod told a City Council subcommittee on Monday. Currently, there are an estimated 26 "mobile businesses" within the city. These to not include the multitude of coffee stands around the city, which are regulated and go through a city approval and permitting process. These also do not include include temporary vendors during events such as Art on the Green or a the downtown Street Fair/Keith Erickson, Coeur d'Alene Today. More here.
Question: The only mobile vendor that I've supported (not counting coffee huts) was Bent's BBQ. How about you?
---
---