Tue., Feb. 25, 2014, 1:10 p.m.
Goedde: Dump WiFi Contract
Senate Education Chairman John Goedde, R-Coeur d'Alene, wants the state to cut off a five- to 15-year sole-source contract with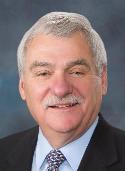 Education Networks of America to set up WiFi networks in every Idaho high school, and instead send the $2.25 million a year in funding out to school districts to contract for their own WiFi networks. "That was a multi-year contract signed with one year's funding," Goedde said. "I'm really comfortable with a non-appropriation on that, and then I would like to see the money sent down to school districts with a standard, saying the money is theirs to invest in wireless. Anything left over after they meet that standard, they could use for other technology"/Betsy Russell, Eye on Boise. More here.
Question: What do you think of Sen. Goedde's approach?
---
---