Tue., Feb. 25, 2014, 1:16 p.m.
Hearn: Talking To A Brick Wall
Chairman Tom Hearn of the Coeur d'Alene School Board Facebooks: "At the legislature today again with Christa Hazel and David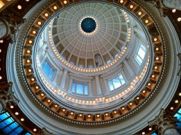 Eubanks. We are advocating as best we can for increased funding ,etc. for the Coeur d'Alene School District. I have testified in the legislature a number of times in the past when I was chair of some state boards. I'm a little skeptical about how much some legislators listen to us about the needs in the schools based on my past experiences in the legislature however we will try as best we can to advocate for a real and lasting commitment to public education." More here.
Question: Why aren't Idaho legislators more concerned with the state's standing of next-to-last in the nation in per pupil spending?
---
---