Tue., Feb. 25, 2014, 2:25 p.m.
Mansfield: 72 Not Too Old For Guv
"Know where to draw the line." How about drawing the line at 41 years of service, 72 years of age and two terms as governor? If Otter won't honor his own code, at least we will have an opportunity in this upcoming election to decide who should lead our state with the integrity that we rightly deserve." -- Janice McGeachin, former state legislator re: Gov. Butch Otter.
Dennis Mansfield responds: "72 years of age? So what? What is the author implying? It's rather obvious, isn't it? That somehow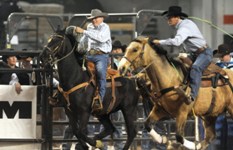 because of his age he can't do his job. Butch Otter's a cowboy. He's a tough-as-nails man - in many ways he's Idaho's picture of a leader -- and has been for a long time. The obvious swipe was an attack against him being "able enough" to continue acting in a capacity that the state needs for its chief executive. Apparently 72 years of age -- or at the end of a next term, 76 years of age -- is "too old"? Are you kidding me?" More here. (2010 AP file photo: Butch Otter, left, team roping at a Pocatello rodeo)
Question: I certainly don't think Butch Otter is too old to be governor. However, I wonder why he wants to continue as governor when his performance over 8 years has been, to be kind, less than stellar. Thoughts?
---
---