Tue., Feb. 25, 2014, 2:56 p.m.
Vick Decries Dependence On Fed $$$
A member of the Idaho Legislature who was also a lawmaker in Montana sees Idaho faced with the same problem he saw in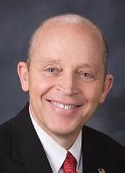 Montana—too much dependence on federal money as part of the general fund budget. "Federal funding certainly grew as a percentage of Montana's budget while I was there," Sen. Steve Vick, R-Dalton Gardens, explained. "If you relate that back to your personal life, say you get a significant amount of money from your parents, you're kind of dependent on them and you become a bit cautious about doing things that they don't want you to do. I think as a state we give up some of our sovereignty when we accept so much federal funding. It's about 40 percent of Idaho's state budget now." Vick scoffs at the notion that, somehow, federal funds coming from Washington are tantamount to "free money" for a state government/Idaho Reporter. More here.
Question: I wonder if Vick realizes the economic mess that Idaho would be in, if it received little or no federal dollars?
---
---