Wed., Feb. 26, 2014, 10:11 a.m.
Carlson: Otter Caught Again
Once again high officials in the administration of Idaho Governor C.L. "Butch" Otter have been caught misrepresenting "facts" and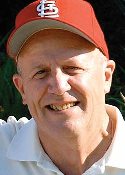 manipulating data in order to present a less than honest picture to the people of Idaho. It is intentional, done with malice aforethought, and it is deplorable as it is deceitful. It is the latest issue in the long-playing saga surrounding the questionable award of a lucrative contract five years ago to a subsidiary of Qwest, the telecommunications giant and a contributor to Governor Otter over the years even though their bid was not the low bid. From e-mails produced in the subsequent lawsuit by the low-bidder, Syringa, which includes in its principals members of former Governor John V. Evans' family, it was clear to Supreme Court Justice Jim Jones that the then head of the Department of Administration, "First Bud" Mike Gwartney, had predetermined that Qwest would win. Justice Jones denounced this fix in scathing language/Chris Carlson, Carlson Chronicles. More here.
Question: Do you see a pattern?
---
---