Wed., Feb. 26, 2014, 8:31 a.m.
Local GOPCC At War Again
Even the most menial items, which arguably would be considered housekeeping tasks for most governing bodies, have become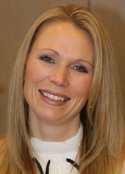 contentious arguments at the local GOP central committee meetings. The Kootenai County Republican Central Committee meeting didn't even make it through the approval of January meeting minutes before it devolved into utter chaos. Things began to heat up when Committeewoman Kellie Palm (pictured) made a motion to amend the minutes to include a report Chairman Neil Oliver gave to the committee in January. ... She said the Republican central committee "should have nothing to hide" and should include all agenda items that were covered during the open meetings. Chairman Oliver obviously took exception to what he felt was an insinuation that he was hiding something, and began to call Palm out of order while gaveling her down/Jeff Selle, Coeur d'Alene Press. More here.
Question: And these guys want to control who's on your ballot in November? Seriously?
---
---