Thu., Feb. 27, 2014, 1:03 p.m.
'Ag-Gag' Price Isn't Right For Barker
Veteran game-show host and animal activist Bob Barker (pictured) is asking Gov. C.L. "Butch" Otter to veto a bill that jails people who secretly film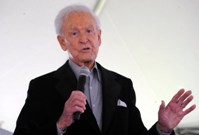 animal abuse at Idaho's agricultural facilities. Barker in the letter on Thursday tells Otter that more than a dozen other states have rejected similar bills, and it could damage Idaho's image among consumers across the nation. Barker refers to himself as a lifelong Republican, and says it's crucial for police to have access to everything they need to enforce the law/Associated Press. More here. (AP file photo: Bob Barker)
Question: Should Gov. Otter veto the Legislature's "ag-gag" bill that makes it a misdemeanor to photography or videotape anything on a farm that's not open to the public?
---
---