Thu., Feb. 27, 2014, 11:57 a.m.
Couple Launches Online Exercise Site
In January, gyms are flooded with new members hoping to keep their New Year's fitness resolutions. By February, the crowds have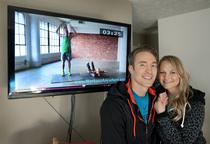 thinned as the reality of combining regular exercise with busy lifestyles hits. Exercise videos are an alternative for those who don't want to have to leave home to work out, but even those are sometimes discarded after a few viewings. But what if you could exercise anywhere with minimal equipment and no DVDs to keep track of? That's the idea behind Workout Anywhere, an online fitness program created by Justin and Jessica Rundle. "We want to help people have the best workout possible," Jessica Rundle said. "This program is transportable and affordable"/Cindy Hval, Front Porch. More here. (SR photo: ustin and Jessica Rundle have launched Workout Anywhere, an online fitness program that takes participants through various workouts)
Question: How often do you exercise per week?
---
---