Thu., Feb. 27, 2014, 8:41 a.m.
Dare's 'Au Gratin Scholar' Missing
Robin Dare (pictured in SR photo) doesn't know whether to be mad, flattered or try to call for those art-rescuing "Monuments Men." And why is Dare, one of my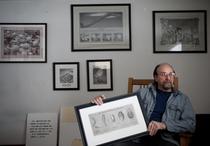 favorite Spokane artists, in such a state of bemused befuddlement? Blame the letter that came the other day informing Dare that one of his works – "The Other Theory of Evolution" – has mysteriously vanished from its wall space inside the King County Courthouse in downtown Seattle. "Dear Robin," wrote Esther Luttikhuizen, the curator for King County's 4Culture public art collection. "I am writing you with the unhappy news that your very delightful 1988 lithograph  …  has come up missing for two inventory survey cycles, and believing that it has been stolen, we are moving forward with deaccessioning it from the Collection." Dare sighed/Doug Clark, SR. More here.
Thoughts?
---
---