Thu., Feb. 27, 2014, 2:07 p.m.
Idaho Levy Election Day Approaches
While the 2014 Legislature debates K-12 funding, the issue will hit home across the state on March 11. That's when school districts from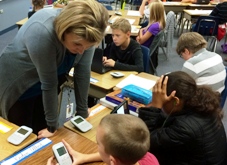 Meridian to Lakeland to Firth will go to voters seeking supplemental property tax levies. Across the state, the message from advocates is basically the same: As schools dig their way of out the recession, the "supplemental" dollars are needed to maintain programs and head off drastic cuts. Certainly, school levies have become more common. In 2013-14, 94 of the state's 115 school districts are relying on supplemental levies to shore up budgets, up from 61 districts in 2008-09. "I think it's pretty good evidence of the Legislature underfunding education," said Jim Weatherby, a Boise State University professor emeritus and longtime Idaho political observer/Kevin Richert, Idaho Statesman. More here. (IdahoED NEWS photo: Lauri Wright works with her fifth-graders at Meridian's Discovery Elementary School. The state's largest school district is seeking a two-year, $28 million levy on March 11)
Question: Do you view school levies as indications that the Idaho Legislature isn't properly funding public education?
---
---