Thu., Feb. 27, 2014, 10:05 a.m.
JFAC Backs $1M To Defend Ban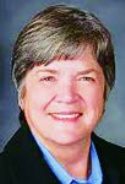 The Idaho Legislature's Joint Finance-Appropriations Committee endorsed a transfer of $1 million from Idaho's general fund to the Constitutional Defense Fund -- a request made by Gov. C.L. "Butch" Otter. Rep. Shirley Ringo, D-Moscow (pictured), a member of that committee, opposed the move, which will allocate money to defend the state's constitutional ban on same-sex marriage and civil unions."I wasn't interested in spending money on supporting a bad decision," Ringo said Wednesday during a state legislative teleconference hosted by the Moscow Chamber of Commerce. "It won't hold up constitutionally"/Terry Harber, Moscow-Pullman Daily News. More here.
Question: Do you support/oppose decision by budget committee to transfer $1M to defend Idaho's ban on gay marriage?
---
---