Thu., Feb. 27, 2014, 12:56 p.m.
Johnson: Heart & Soul
The political and social fault lines in the modern Republican Party have been showing again for the last several days in Arizona. The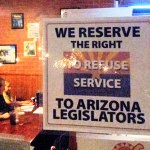 Republican governor, Jan Brewer, vetoed a piece of legislation this week that was widely seen as opening a path of overt discrimination against gays. The veto came after days of increasingly negative attention focused on Arizona; attention that included corporate worries about the legislation's impact on business and threats to cancel next year's Super Bowl game in suburban Phoenix. Brewer, an often erratic politician who once championed most causes of the far right of her party, took her time in doing it, but she ultimately saved the state's Republicans from themselves/Marc Johnson, The Johnson Post. More here.
Thoughts?
---
---