Thu., Feb. 27, 2014, 8:44 a.m.
Love Story: Their Paths Finally Cross
Hope hung suspended in silvery letters from ribbon in Rachel Devlin's hands. A friend gave her the ornament in 2005. The friend told her,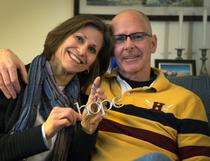 "Never give up hope," Rachel, 53, recalled. Devlin had fled an abusive marriage years earlier. The experience left her doubtful she would ever find true love. Instead, she focused her time and energy on raising her daughter. "But hope springs eternal," she said, smiling softly. With the encouragement of friends she explored online dating and in December 2012, she met Tim Devlin. It turns out there were so many places they could have found each other over the years. ... Instead, it took the online dating site Christian Mingle to introduce them./Cindy Hval, SR. More here. (Colin Mulvany SR photo: Rachel and Tim Devlin met through an online dating service)
Question: Have you ever used an online dating site? Would you if you were single?
---
---