THURSDAY, FEB. 27, 2014, 5:17 P.M.
Otter Applauds Arizona Guv Veto
While he wouldn't comment on what he would have done had a similar bill reached his desk, Idaho Gov. Butch Otter said Thursday that he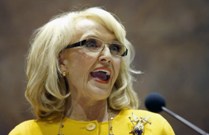 congratulates Arizona Gov. Jan Brewer for her veto Wednesday of a bill that would have given business owners the right to refuse service to gays and lesbians on religious grounds. "I tried to call her this morning to congratulate her on making a decision and to support her in the decision she made about Arizona," Otter said. "I think that's her prerogative, I think she did the right thing." But Otter declined comment on a question from KBOI-TV's Scott Logan about whether he would have done the same thing had Boise GOP Rep. Lynn Luker's House Bill 427 passed the Legislature and reached his desk/Dan Popkey, Idaho Statesman. More here. (AP file photo, of Gov. Jan Brewer of Arizona)
Hunh?
---
---