Thu., Feb. 27, 2014, 5:07 p.m.
Tea Party At 5: Growing? Waning?
As the Tea Party turns five years old, some of its stars gathered Thursday to argue the movement is still growing and not on the wane.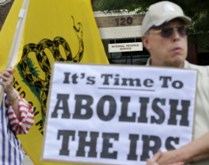 Hundreds of activists met in Washington, D.C., to mark the cause's advent, acutely aware their nascent movement faces challenges. But together, they sought to reassure themselves they're as vibrant as ever even in the face of building criticism. The event was hosted by Tea Party Patriots to mark the fifth the anniversary of CNBC contributor Rick Santelli's on-camera rant against the federal government's "promoting bad behavior" with its housing market bailouts and calls for a new "tea party" protest against President Obama, comments that many credit with sparking the movement/The Hill. More here. (AP file photo)
Question: Do you think the national Tea Party movement is still growing? Or waning? How about the local Tea Party?
---
---