Fri., Feb. 28, 2014, 11:57 a.m.
6 Tips For Winning Office Oscar Poll
Hoping to come out the big winner Sunday night in your Oscar pool? It's not as easy as it sounds. Picking the winners for the big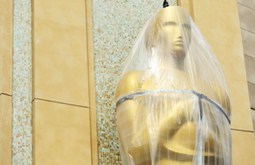 categories -- best film, director, actor, actress -- that's one thing. There is no shortage of expert predictions for those. But it's all those little categories, like sound editing, production design, best foreign film -- categories that might be filled with names and films never heard of -- that can trip you up and separate you from Oscar pool glory. We can't tell you who to vote for. But what we can give you are a few things to think about when you fill out your ballot, a few tips, shall we say, for your consideration/CTV News. More here. (AP file photo: An Oscar statue is covered in plastic as preparations are made for the 86th Academy Awards in Los Angeles on Sunday)
Question: Are you involved in an Oscar office pool? Which film did you pick to win Best Picture?
---
---