Fri., Feb. 28, 2014, 3:45 p.m.
7 Blog: 10 Reasons To Miss 'Non-Stop'
The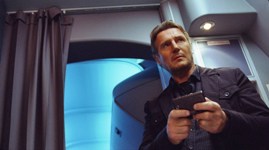 old saw is that dying is easy but comedy is hard. That may be so, but unintentional comedy is as easy as it comes. I was reminded of that fact while attending a late-night screening Thursday of "Non-Stop." Billed as an action/mystery/thriller, "Non-Stop" is as ridiculous an excuse for an empty-headed movie offering as Hollywood has produced in some time. Put it this way, "Non-Stop" makes "Snakes on a Plane" look like an Errol Morris documentary/Dan Webster, 7 Blog. The 10 reasons here. (AP/Universal Pictures photo)
DFO: Dan Webster is one of the best reviewers around. Not only does he share his reviews on 7 Blog but also on Spokane Public Radio. I have a link to his blog along the right-hand rail. You should check him out and follow him regularly.
Question: Were you planning to watch "Non-Stop"?
---
---