FRIDAY, FEB. 28, 2014, 8:50 A.M.
Burnett Steps Down As Interim Prez
Don Burnett's passion for collaboration did not go unnoticed during his brief tenure as the University of Idaho's interim president. Boise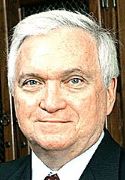 State University President Bob Kustra commended Burnett for his work leading UI and as chairman of the Idaho Universities Presidents' Council following his final report to the Idaho State Board of Education Thursday in Boise. Burnett was appointed to serve as UI's interim president last year when former President Duane Nellis resigned to take the helm of Texas Tech University. The former College of Law dean will conclude his presidential service Saturday when President-elect Chuck Staben officially takes the reins/Elizabeth Rudd, Lewiston Tribune. More here.
Question: How long do you think the next UI president will last?
---
---