Fri., Feb. 28, 2014, 9:15 a.m.
CdA Fire Sends 8 To Hospital
Coeur d'Alene Police and Coeur d'Alene Fire Department responded to a large structure fire in the 4200 block of Crown Ave. at 5:50 am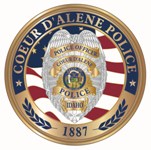 on today's date. The apartment complex was fully engulfed when firefighters arrived. Kootenai Fire, Northern Lakes, and Mica Fire Department also responded. Twelve people were evacuated from their apartments by firefighters. Two dogs were also rescued. Eight of the 12 people who lived in the four apartments were transported to Kootenai Medical for treatment. Six of the eight people were children. All of the children have been treated and released. An adult male and adult female sustained critical injuries due to burns and smoke inhalation. The Red Cross is currently on scene assisting with the victims displaced from their homes. The apartment complex sustained extensive damage. Police and Fire investigators are working to determine the origin of the fire. More information will be provided as it becomes available/Sgt. Christie Wood, Coeur d'Alene Police Department.
---
---