Fri., Jan. 3, 2014, 1:57 p.m.
Dogwalk: Trouble With Reality Shows
The trouble with reality show is that they bear no resemblance of reality as I know it. Right down to and including the current hit Duck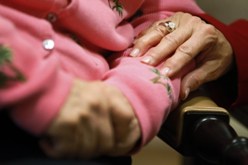 Dynasty. As with all like it, the show is staged and the dialog written for gags. Heck all you have to do is watch Jase's eyes as he reades from his teleprompter. It's a hit, I think, because it so unreal. I dug a bit deeper on patriarch Phil and found several articles that would suggest he would not qualify for father of the year. Think about what role models Snookie and friends from Jersey Shore or any of the Kardasians are? Do you really think they're real? Or want your kids to think they're real? Or want your kids to emulate any of them? Does it take we old folks to set the trend on the right track? I can see it now. No, not the Floridians that were Obama boosters. That too was staged. But maybe our really old friends in senior communities/Dogwalk Musings. More here.
Question: Would it be possible to conjure a reality show based on the antics of Senior Citizens in an assisted living center?
---
---