Fri., Jan. 3, 2014, 1:02 p.m.
"Her": Top's Nathan's Movie List
I always have a difficult time putting together year-end top 10 lists for two reasons: 1) The further down the list you go, the more arbitrary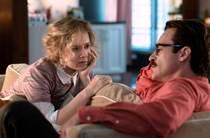 the ranking becomes – I mean, really, how much better is title No. 7 than No. 8? – and 2) coming up with 10 movies that I really loved in a given year is a trying task – that means a typical top 10 list is composed of, say, five great films and five really good ones. But 2013 has proved to be a new kind of challenge, because this is one of those years when I've simply had too many worthy candidates to choose from. It's a testament to the quality of the year that the newest films from Martin Scorsese, Woody Allen, David O. Russell and Alexander Payne didn't crack the top 10 – although they're all hovering there in an imaginary 11th place. This could just have easily been a top 15/Nathan Weinbender, SR Spokane7. More here. (AP photo: Amy Adams and Joaquin Phoenix star in "Her," Spike Jonze's examination of love in an age of increasing technology)
Question: Which movie was your favorite in 2013?
---
---