Fri., Jan. 3, 2014, 11:56 a.m.
Kinks Mull 50th Reunion Anniversary
The iconic 1960s band The Kinks are considering reuniting to mark a half-century since the band's debut release. The group's frontman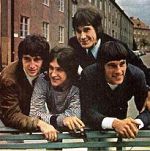 and chief songwriter Ray Davies said the reunion of the north London band was as "close as it's ever been to happening". With hits including Waterloo Sunset, Tired Of Waiting For You and the August 1964 release You Really Got Me, The Kinks enjoyed their commercial peak in the late sixties. Now the three surviving original members, Davies, 69, his guitarist younger brother Dave and original drummer Mick Avory have told Uncut magazine they are keen to get together for the milestone/Sky News HD. More here. (Wikipedia photo of Kinks in 1965)
Question: Which band reunion would you most like to see?
---
---