Fri., Jan. 3, 2014, 1:43 p.m.
Lake City Breaks Recycling Record
Coeur d'Alene residents recycled nearly 418,000 pounds of materials last month, the most recorded since single-stream curbside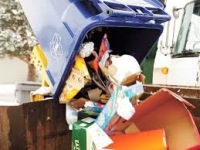 recycling was introduced in the city in October 2010. "That's a 13 percent increase over December 2012," said Coeur d'Alene finance director Troy Tymeson. "That means 208 tons of material was not placed in the landfill at Fighting Creek—kudos to recyclers." Tymeson estimate that, on average, about 70 percent of city residents recycle. "I think we're always trying to teach the next generation to recycle and make it as easy as possible," he said. "And when you give people a choice—throw it in the blue (recycle) bin throw in in the garbage, it's easy." Kootenai County solid waste director Roger Saterfiel said as recycling numbers continue to increase, it extends the life of the county landfill, saving taxpayers/Keith Erickson, Coeur d'Alene Today. More here.
Question: Do you always put your blue trashcan out with recycled material bi-weekly?
---
---