Fri., Jan. 3, 2014, 1:14 p.m.
OperaCDA Director To Take Stage
It might be a one-man show. But baritone Aaron St. Clair Nicholson will be performing with some "old friends" Saturday night. They're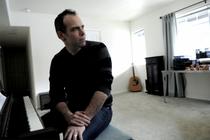 classical and contemporary, a mix of popular opera arias and Americana, a few of his favorites, songs to which he always returns. "They're special to me," Nicholson said. "They're old friends of mine. They're all songs I've sung for a long time." Sharing them with the community gives the Inland Northwest newcomer a chance to meet some new friends while raising awareness for Opera Coeur d'Alene and The Jacklin Arts and Cultural Center. Nicholson is giving his first recital since moving here last spring to run Opera CdA, where he serves as artistic and general director/Adriana Janovich, SR. More here. (SR photo: Kathy Plonka)
When: 7:30 p.m. Saturday; Where: The Jacklin Arts and Cultural Center, 405 N. William St., Post Falls; Cost: Tickets are $20 for general admission or $15 for students and seniors.
Question: Is this the kind of entertainment fare that interests you?
---
---