Fri., Jan. 3, 2014, 4:31 p.m.
Otter Pledges 5-Year Education Plan
Setting the stage for the 2014 legislative session — and for several legislative sessions to follow — Gov. Butch Otter says he will lay out a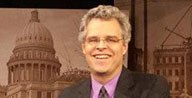 five-year plan to overhaul Idaho education. The five-year plan will implement, gradually, the 20 recommendations from Otter's 31-member education task force. "We can't do that all in one year," Otter told reporters Friday morning, at a legislative preview sponsored by the Associated Press. The task force's recommendations — which include a teacher salary career ladder, a reversal of recession-era cuts in K-12 funding, and a renewed push for classroom technology — offer a blueprint for education reform, Otter said Friday. But these recommendations come at a heavy cost — estimated at $350 million or more, although Otter misspoke twice Friday morning, pegging the collective price tag at $350,000. "I wish that were the case," Otter quipped/Kevin Richert, The EDge. More here.
Question: Is there any reason to believe that Gov. Otter will support public education more this year than in the past?
---
---