Fri., Jan. 3, 2014, 2:44 p.m.
Prosecutor: Officer-Shooting Justified
The Bonner County Prosecuting Attorney said Friday that a deadly officer-involved shooting that happened in Coeur d'Alene back in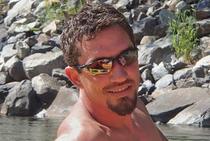 August was justified. The Prosecuting Attorney believes Eric Johnston, pictured, intended to commit suicide by cop after conducting interviews and watching footage from the officer's body camera. Authorities said Eric Johnston, 38, was threatening to hurt himself after officers approached him on the morning of August 25. Officer Spencer Mortensen responded to an apartment complex on Young Avenue after Johnston hit a power pole/KREM. More here.
Thoughts?
---
---