The Idaho Senate's newest member, Sen. Janie Ward-Engelking, D-Boise, pictured, was sworn in this morning, as the legislative session kicks off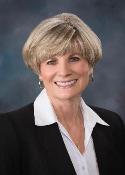 today; here, she's shown leaving the Senate chamber after the ceremony with her mom, Eloise Ward, and other family members. Ward-Engelking, formerly a state representative, was appointed to the Senate seat opened by the resignation for Sen. Branden Durst, D-Boise. Both houses will convene at noon Mountain time, and then Gov. Butch Otter will give his State of the State and budget message to a joint session, in the House chamber, at 1 p.m. The speech will air live on Idaho Public TV's "InSession" live streaming service, and also on numerous TV stations in the Boise area; in it, Otter will lay out his agenda and budget priorities for the session/Betsy Russell, Eye on Boise. More here.
Question: Any predictions re: what the 2014 Legislature will do?